Managed Forex Funds
Invest with professional traders
Are you looking for a safe forex investment? Every trader on our site is a full time professional forex trader with an extended record of consistent profitability and good risk and money management practices. You can open a managed account and trade exactly like they do in exchange for a share of your profits, without the need of a hiring a VPS and without initial payment.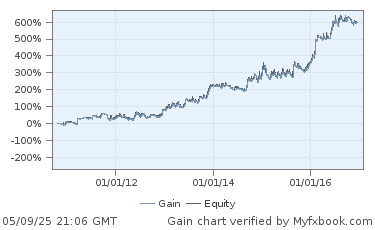 Kahuna Fund
Sustainable medium-term trading gains
A semi-automatic and modern trading system which mostly trades major forex pairs, among other but less frequent symbols. It can be described as position trading and aims to earn from 50 to 100 pips per trade. Trades last over 4 days on average and the system has been designed to capture medium-term gains with a reasonable risk.
604.45%

Growth

2.72%

Monthly

25.6%

Drawdown
Brava Fund
Regular profits with small risk
A semi-automatic and modern trading system which trades EURUSD, EURAUD, NZDUSD and AUDUSD, among other but less frequent symbols. It trades several times a day and delivers an average profit of 33 pips per trade, with a profit factor well over two. Trades last a little bit over two hours and the system tries to finish the day flat to avoid carry costs. A great choice for a risk-averse investor.
81.55%

Growth

6.24%

Monthly

6.86%

Drawdown
Stone Fund
Stability and moderate equity growth
A pure systematic and fully automated trading system, which trades based on algorithmic price action analysis. It trades mostly EURUSD and provides a stable average return of almost 3% with an historical peak to valley drawdown of 5%, which is extremely rare in the forex industry. If desired, you can trade with a risk profile of 3x, which increases the payoff and risk three times.
103.73%

Growth

2.63%

Monthly

5.9%

Drawdown